General Meeting of Members 2023 - PERBANAS Encourages an Environmentally Friendly Sustainable Economy
24 July 2023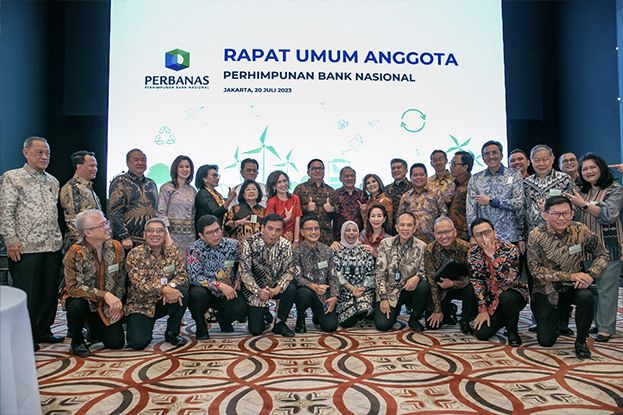 Press Release
General Meeting of Members 2023
PERBANAS Encourages an Environmentally Friendly Sustainable Economy
JAKARTA - The Association of National Banks (PERBANAS) is holding a General Meeting of Members (RUA) today (20 July 2023). Every year, the general chairman and management give performance reports at the top forum for the banking industry associations, where the future work program is also presented.
The General Meeting of Members serves as a discussion forum for participants in the financial service industry as well as stakeholders, in addition to serving as a venue for organizational management responsibility. Luhut Binsar Pandjaitan, the Republic of Indonesia's Coordinating Minister for Marine Affairs, was introduced by Perbanas as the keynote speaker.
For the panel discussion, Perbanas invited a number of speakers, including Professor of FEB at the University of Indonesia Mari Elka Pangestu; Chairman of the PERBANAS Supervisory Board, Muhammad Chatib Basri; and a former banker who is now Chairman of the Board of Directors of the Indonesia Investment Authority (INA), Ridha D.M Wirakusumah.
"We are holding a panel discussion entitled "Sustainable Finance: Indonesia's Economic Transformation towards a Nature-Positive Future. We chose this theme to better understand two key issues that are currently highly relevant to the industry. First. macro perspective on economic transformation and government strategy in implementing SDGs in Indonesia. Second, the development plan and the role of banking in encouraging the realization of comprehensive sustainable finance." said the Chairman of PERBANAS Kartika Wirjoatmodjo.
Coordinating Minister Luhut Binsar Panjaitan described the government's six primary priorities for achieving sustained economic growth in his remarks. Industrialization through downscaling, accelerating net zero decarbonization while seizing green economic opportunities, and balancing all lines to address social inequalities are a few examples.
The government is putting emphasis on delivering high-quality, reasonably priced education in addition to a sustainable economic program through downsizing, decarbonization, and equitable growth distribution. In order to produce skilled and contemporary human resources and keep this nation from becoming imprisoned by the middle class, education is essential (middle income trap).
Coordinating Minister Luhut also highlighted the strategic role of sustainable finance in supporting sustainable economic growth. He emphasized the importance of comprehensive support from the financial services sector in driving the real sector by aligning economic, social and environmental interests.
Currently the issues of Environmental, Social & Governance (ESG) and climate management have become the main topics of world leaders. Various countries have taken serious action in addressing climate change and implementing ESG. Indonesia as part of the global community is also committed through Enhanced Nationally Determined Contribution to reduce greenhouse gas emissions by 31.9% in 2030 and Net Zero Emissions (NZE) in 2060.
"In this context, banking as one of the pillars of the national economy has proven to have good resilience in that since the last 25 years, Indonesia has never experienced an economic crisis amidst the global crisis from 2008 to the last one in 2022, namely the SVB liquidity case in the United States. In addition, banking must become the driving force for Indonesia's economic transformation, which plays an active role in reducing carbon emissions, through the alignment of financing strategies and credit portfolios that refer to the Indonesian Green Taxonomy (THI)," said Kartika, who is familiarly called Tiko.
PERBANAS appreciates its members who have encouraged companies or debtors engaged in energy extraction such as mining and petroleum, fossil fuel energy generation, energy transmission, and others, to take steps towards energy transition initiatives through the provision of green financing facilities and sustainability loan facilities.
"In the midst of developing a new renewable energy (EBT) ecosystem, banking support for the energy transition is not enough to stop at the upstream side, it must also go downstream. Downstreaming of raw materials, such as nickel, is a strategic key in the development of the electric vehicle industry which ultimately aims to reduce carbon emissions. In addition, PERBANAS as a national banking forum which is a bridge between state-owned, private and foreign banks and regulators such as BI and OJK, is committed to strengthening and improving regulations related to post-covid policies, taxation, to IT security," said Tiko.
Tiko explained, in addition to providing funding for environmentally friendly corporations, the banking industry must also show alignments and social responsibility in the form of access to finance for MSME players and the lower middle class. This financing facility aims to increase literacy